Baby drinks are the type of drinks given to infants and babies below five years. These drinks contain nutrients and vitamins which are essential for proper growth of the infants. The infant formula is a substitute for breast milk. Infant formula is a dried milk powder which contains all the nutrients which are generally present in the natural breast milk.
Infant formula is generally made from soy milk or cow milk. Baby juices are a type of fruit juices which are specially designed for the consumption by the children under three years. The baby electrolyte is a powder type product which restores body water and minerals in the body.
The baby drinks market is mainly driven by the increase in the number of women professionals in the world. As the women working population is increasing it is become difficult for them to breastfeed the child, therefore as its substitute, baby drinks are given to the babies.
The nutritious value of baby drinks has also created awareness among mothers and propelled the overall growth of the market. The other factors that are driving the market growth are changes in lifestyle, the rise in middle-class population and increase in disposable income in emerging countries like China, India, Indonesia, etc. Active marketing by baby drink manufactures has also fueled the market growth in various regions.
However, the decline in the global birth rate and various concerns related to food safety are expected to hinder the market growth in the forecast period. Also in some baby drinks the level of sugar content is high which has an overall effect on the health of infant which can affect the growth of the market.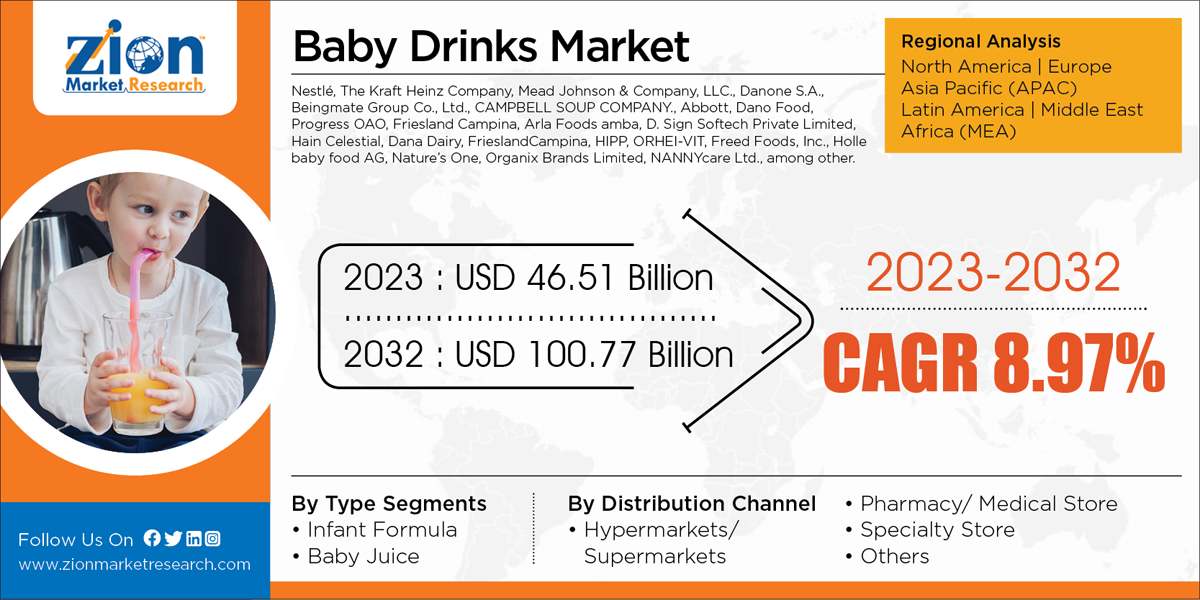 Based on the type, the market is segmented into infant formula, baby juice, and baby electrolyte. Infant formula is divided into infant milk, growing up milk and others. Baby juice segment is further sub-segmented into concentrated and ready to drink. Infant formula is expected to dominate the global baby drinks market during the forecast period.
Based on distribution channel, the market is segmented into hypermarkets/supermarkets, pharmacy/medical store, specialty store, and others. Hypermarkets/supermarkets segment is anticipated to dominate the global baby drinks market in the future.
The Asia Pacific is projected to continue its supremacy, in global baby drinks market, which will be followed by North America, in the forthcoming years. Increase in the women workforce in developing countries of Asia Pacific has lead to the increase in demand for baby drinks market in this region.
Some of the key players in the global baby drinks market are as follows:
Mead Johnson Nutrition Company LLC.
Nestle
Dano Food
Dana Dairy Group Ltd.
Orhei-Vit
Freed Foods Inc.
Holle baby food GmbH
Nature's One Inc.
Organix Brands Limited
NANNYcare Ltd.
Progress OAO
Friesland Campina
others.
This report segments the global baby drinks market as follows:
Global Baby Drinks Market: Type Segment Analysis
Infant Formula

Infant Milk
Growing-up Milk
Others

Baby Juice

Concentrated
Ready to Drink

Baby Electrolyte
Global Baby Drinks Market: Distribution Channel Segment Analysis
Hypermarkets/ Supermarkets
Pharmacy/ Medical Store
Specialty Store
Others
Global Baby Drinks Market: Regional Segment Analysis
North America

Europe
Asia Pacific
Latin America
Middle East and Africa