22-Feb-2023 | Market Research Store
Bread is fermented staple food mainly made up using yeast, wheat flour, oils and water. Bread is widely consumed food all over the world and is available in various forms, shapes and flavors. Baked foods are produced using the baking technique. Baking is the process in which the food is baked using prolonged heat with the radiation and convection technology. Bread, cake base, cookies and many others are some of the most prominent products obtained from baking process.
Bread is widely consumed across the globe due to easy availability and economical food product as compared to other food products. Increasing demand for convenience food is the major driver for the bread and baked food market. Rise in hectic lifestyle with dual income had led to spur the demand for fast food market which in turn is expected to boost the market for bread and baked products in the coming years. Escalating food chain industry is one of the factors contributing to the growth of bread and baked food product market in the forecast period.
However, limited shelf life of the baked products couple with health concern population due to use of refined flour and high fats may impede the bread and baked products market. Nevertheless, ongoing research for developing high nutrition product is likely to offer ample opportunities to the bread and baked product market. Moreover, increasing popularity of functional bakery products with rising demand for gluten free products is expected to bolster the growth of bread and baked food market in the coming years.
The bread and baked product market can be segmented based on type. The bread consists of two major types that are white bread and brown bread and other types. White bread was considered to be the high consumed bread; however, health conscious generation prefers the brown bread. This factor is expected to stimulate the high growth for the brown bread market in the coming years. The baked product market can be segmented on the basis of type. There are numerous baked products available in the market among those the key products are pastries, cereals, pies, cakes, cookies, biscuits, scones and other types. Pastries are the dominating segment excluding the bread due to changing preference of food by the youngsters and children. Biscuits, cereals are the products growing with faster pace.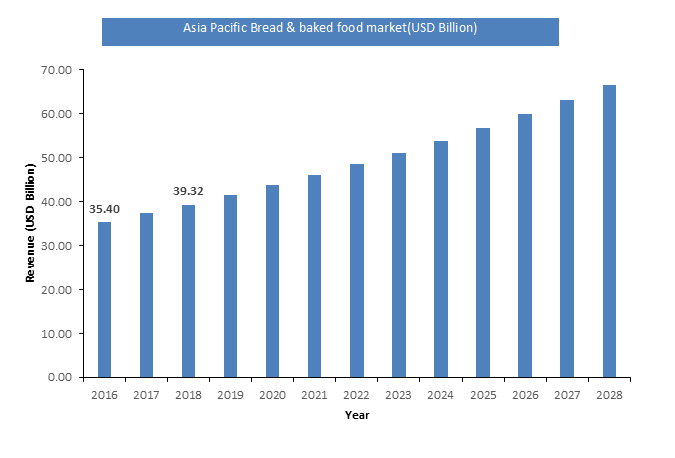 There are approximately 1,000 plant bakeries in Europe region. In 2015, UK accounted for highest market share in the region. Increased demand for greater variety of breads and whole meal breads with oats, bran, seeds and among others becoming more popular in the UK. Moreover, increasing production of sliced and wrapped bread in many countries across Europe including Germany and France is likely to foster the demand for bread and baked food market in Europe. Europe is expected to witness rapid growth in specialty breads and bakery products with huge opportunity for innovation in the coming years.
Key players of the bread and baked food market include:
Delta Agri-Foods Inc
Biscuits Fossier
DeliFrance
Groupe Holder
Paul. Cake the Kitchen Family
Baker's Oven
Beigel Bake
Huntley and Palmers
Premier Foods
Warrens Bakery
AB Mauri
Ginsters
Others
The Global Bread & Baked Food Market is segmented as follows:
By Type
Leavening agents
Fats & shortenings
Colors & flavors
Baking powders & mixes
Oil
Other
By Region
North America
Europe

France
The UK
Spain
Germany
Italy
Rest of Europe

Asia Pacific

China
Japan
India
South Korea
Southeast Asia
Rest of Asia Pacific

Latin America

Brazil
Mexico
Rest of Latin America

Middle East & Africa

GCC
South Africa
Rest of the Middle East & Africa