The range of technology to engineer the surface is an integral part of an engineering component design. The first step in chemical surface technique is to determine the surface and substrate engineering requirements which involve one or more of the properties like wear resistance, corrosion and thermal resistance, fatigue, creep strength, pitting resistance etc. The various chemical surface treatments generally used in engineering practice and offered such as thermal treatments, thermochemical treatment, plating, and coating. Surface treatment of metal plays a massive role in extending the life of metals, such as in automotive body and construction materials, which makes the components robust to use for a longer period of time.
Chemical surface treatment market is segmented on the basis of type and end use. On the basis of types, the global chemical surface treatment market is segmented into plating chemicals, conversion coating, and cleaners. Plating chemicals were the largest segment of global chemical surface treatment market in 2017.
Moreover, it is also predicted to be the fastest growing segment during the years to come. This growth is attributed to surging rapid industrialization, particularly in rising economies; the demand for these plating chemicals is constantly increasing.
On the basis of end use, the global chemical surface treatment market is segmented into construction, transportation, and general technology. In 2017, transportation segment was the most attractive end use of the global chemical surface treatment market. Ongoing urbanization, increasing number of vehicles, and improving road infrastructure across the globe is expected to result in improving a number of personal vehicles. Moreover, cleaning chemicals are expected to be one of the fastest growing segments of the market in the upcoming years.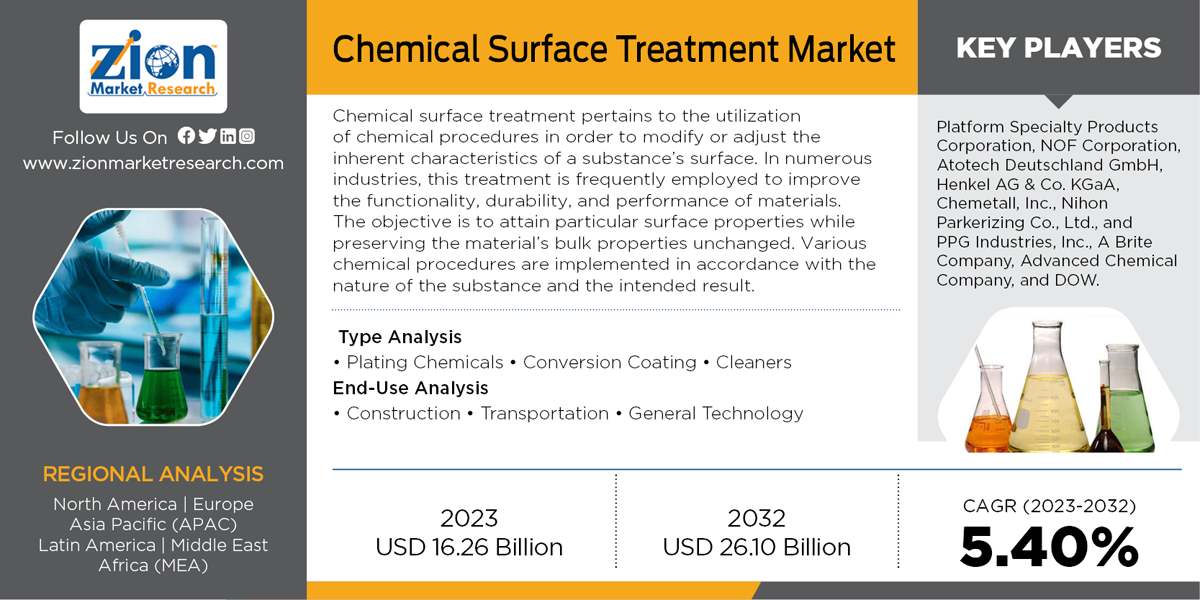 Chemical surface treatment market is primarily driven by increasing automobile industries and increasing demand for durable and wear-resistant products. Among metal application, the increasing residential and commercial infrastructure is propelling demand for anodized aluminum, which in turn creates strong demand for anodizing chemicals such as degreaser, additives, and etchants.
Thus, is expected to boom the growth of the market in the near future. Stringent environmental regulations regarding emissions may hamper the volume sales of some surface conduct chemicals in certain regional markets. The global chemical surface treatment market offers new growth opportunities for domestic and global manufacturers during the forecast period, due to expanding industrialization and rising heavy machinery demand in emerging market.
Based on regional segmentation, Asia Pacific dominated the market of chemical surface treatment in 2017 and it accounted for a significant share of the market. Countries such as India, China, and Thailand, has high economic growth rate with the increased number of manufacturing industries in the Asia Pacific region. Increasing industrial machinery and electronic components especially in emerging countries such as China, South Korea, and Japan is expected to drive the growth of Asia Pacific chemical surface treatment market over the forthcoming years.
In addition, Russia is estimated to project a relatively strong growth and thereby driving the revenue sales of the Eastern Europe surface treatment chemicals market. In GCC and North Africa, the rising industrial machinery and construction sector growth are estimated to produce a sustainable demand for anodizing, paint strippers and corrosion protection chemicals for chemicals surface treatment market.
Some of the major players involved in the global chemical surface treatment include as follows:
Platform Specialty Products Corporation
NOF Corporation
Atotech Deutschland GmbH
Henkel AG & Co. KGaA
Chemetall Inc.
Nihon Parkerizing Co.Ltd.
PPG Industries Inc.
A Brite Company
Advanced Chemical Company
DOW.
This report segments the global chemical surface treatments market as follows:
Chemical Surface Treatments Market: Type Analysis
Plating Chemicals
Conversion Coating
Cleaners
Chemical Surface Treatments Market: End-Use Analysis
Construction
Transportation
General Technology
Chemical Surface Treatments Market: Regional Analysis
North America
Europe
Asia Pacific
Latin America
The Middle East and Africa