Blood culture is used to identify infections in the blood. It is the microbiological culture of blood, which is useful to identify infections spreading through one's bloodstream. Globally, bloodstream infections (BSI) are one of the leading causes of morbidity and mortality. Blood culture plays a vital role in the diagnosis of various infections, such as bacterial, mycobacterial, and fungal. The techniques used in bloodstream infection automated methods and conventional/manual methods are used by healthcare professionals to identify the contamination in the bloodstream.
The increasing occurrence of infective diseases, BSIs, and sepsis are projected to be the key driving factors of the global blood culture market growth. According to the WHO survey, 2,50,000 cases of bloodstream infections occur annually in the U.S. Out of this, the number of patients undergoing catheter-related bloodstream infections is 80,000. Thus, there is a significantly high demand for advanced testing method and tools by diagnostics laboratories for bacterial, fungal, and mycobacterial detection. However, the strict government regulations for manufacturing and development of diagnostic products may restrict the global blood culture test market in the future. Long clinical trial procedures of diagnostic products tend to increase the cost of the launched products.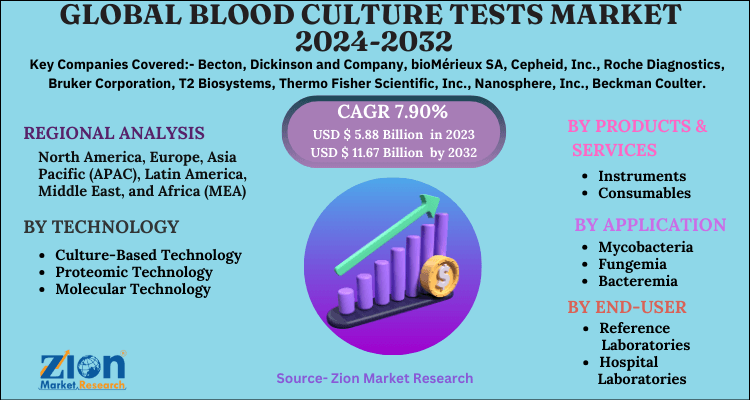 The global blood culture tests market is segmented based on technology, products & services, application, end-user, and method. By technology, the global blood culture tests market is segmented into culture-based technology, proteomic technology, and molecular technology. By product and services, the global the blood culture tests market is segmented into instruments, consumables and software and services. The application segment includes mycobacteria, fungemia, and bacteremia. By end-user, the market is segmented into reference laboratories, hospital laboratories, academic research laboratories, and other laboratories. By the method, the market is bifurcated into automated blood culture and manual/conventional blood culture.
By region, North America dominated the blood culture tests market in 2018 due to various technological advancements. There is a significantly large presence of major healthcare firms, such as Roche Diagnostics, bioMerieux SA, Becton, Dickinson, and Company, and Thermo Fisher Scientific, Inc. in the region. These firms are contributing to the blood culture tests market growth in the region. The Asia Pacific is anticipated to grow at the highest rate during the forecast time period. The European blood culture tests market is anticipated to show significant growth in the future, owing to the presence of advanced pharmaceutical industry and highly developed healthcare infrastructure especially in the UK, France, Germany, etc. The Middle Eastern and African and Latin American markets are projected to demonstrate moderate growth over the forecast time period.
Some key players of the global blood culture tests market are as follows:
Becton
Dickinson and Company
bioMérieux SA
Cepheid Inc.
Roche Diagnostics
Bruker Corporation
T2 Biosystems
Thermo Fisher Scientific Inc.
Nanosphere Inc.
Beckman Coulter
Iridica.
This report segments the global blood culture tests market into:
Global Blood Culture Tests Market: Technology Analysis
Culture-Based Technology
Proteomic Technology
Molecular Technology
Global Blood Culture Tests Market: Products & Services Analysis
Instruments
Consumables
Software and Services
Global Blood Culture Tests Market: Application Analysis
Mycobacteria
Fungemia
Bacteremia
Global Blood Culture Tests Market: End-User Analysis
Reference Laboratories
Hospital Laboratories
Academic Research Laboratories
Other Laboratories
Global Blood Culture Tests Market: Method Analysis
Automated Blood Culture
Manual/Conventional Blood Culture
Global Blood Culture Tests Market: Regional Analysis
North America
Europe
Asia Pacific
Latin America
Middle East and Africa