Medical plastics are made of a large number of macromolecules, which are used for the production of safe and consistent instruments in the industry. They are extremely supple, long-lasting, and economical. The sterility, performance, and quality of these tools is a significant factor for this market's growth. Thus, it has a broad range of applications like implants, diagnostic instruments, drug delivery devices, disposables, syringes, surgical instruments, and catheters.
The growing demand for medical devices at reasonable prices has augmented the need for medical devices in the medical industry. Stringent government rules have enforced healthcare providers to select biocompatible, environmentally-friendly, and clean materials to meet manufacturability, functionality, and safety necessities related to medical devices.
Additionally, the increasing requirement for medical devices with a better shelf life, growing export, and import of medical instruments, and rising demand for non-reusable and sterilized instruments are also driving the global medical plastics market. The augmentation in the use of prosthetics and rise in the demand for non-magnetic tools around greatly magnetized medical devices, such as MRI, are also fuelling medical plastics market growth globally.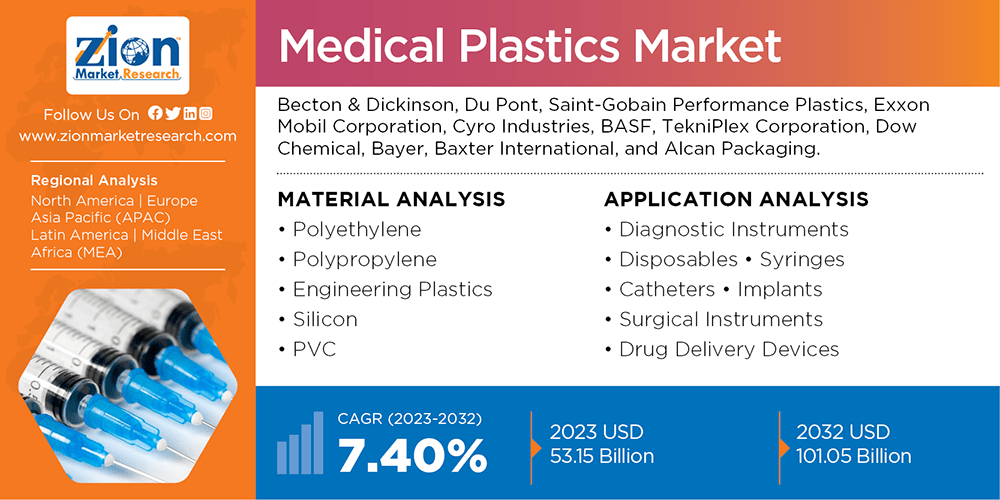 The global market of medical plastics is split into type and application. Based on type, the market is divided into polypropylene, silicon, engineering plastics, polyethylene, and PVC. The PVC (polyvinyl chloride) segment is projected to be the largest segment in the global medical plastics market in the future. PVC's rising use in containers and tubing due to its chemical solidity, lethargic, and multipurpose nature. Moreover, the polyethylene segment is also forecasted to witness rapid growth in the future, owing to its growing consumption in the tubing, surgical cables, and orthopedic sutures.
Based on application, the global market is categorized into diagnostic instruments, catheters, disposables, implants, surgical instruments, syringes, and drug delivery devices. The disposables segment is expected to grow substantially in the future, due to the rising demand for medical devices like dialysis disposables, disposable enemas, medical and cleaning gloves, etc.
By geography, Asia Pacific is expected to dominate the global medical plastics market, owing to the developing technologies like minimally invasive medical procedures to manufacture improved medical devices. Additionally, the regional demand for medical devices has been growing due to the increasing awareness of early analysis and treatment of limitless diseases across this region.
Some key players of the global medical plastics market are as follows:
Becton & Dickinson
Du Pont
Saint-Gobain Performance Plastics
Exxon Mobil Corporation
Cyro Industries
BASF
TekniPlex Corporation
Dow Chemical
Bayer
Baxter International
Alcan Packaging.
This report segments the global medical plastics market as follows:
Global Medical Plastics market: Material Analysis
Polyethylene
Polypropylene
Engineering Plastics
Silicon
PVC
Global Medical Plastics market: Application Analysis
Diagnostic Instruments
Disposables
Syringes
Catheters
Implants
Surgical Instruments
Drug Delivery Devices
Global Medical Plastics Market: Regional Analysis
North America
Europe
Asia Pacific
Latin America
The Middle East and Africa