Medical power supply is used in wide-ranging medical applications. These devices are distinct from regular power supply devices. At times, they are combined with bigger power devices or equipment for power supply. Healthcare amenities are thriving around the world due to technological inventions and rising aged population base, which is expected to further revolutionize the healthcare industry. Currently, nearly two-thirds of the world's elderly population lives in emerging countries.
The protection of patients and workers is the main concern of medical power supply. Developments and improvements in technology and invention substantially influence the global medical power supply market. The rising demand for medical tools that are more competent, smaller, cheaper, consistent, and lighter is correspondingly driving the global medical power supply market growth. The intensifying occurrence of diseases, easier access to medical treatment, accessibility of technical provision for healthcare, improved standards of living, and the efficacy of numerically controlled power supply are primarily driving the medical power supply market.
However, the descending economic is obstructing the global medical power supply market growth. The rising acceptance of in-home patient care, developments of medical devices, and the growing implementation of mobile medical devices are likely to create new growth opportunities in the market.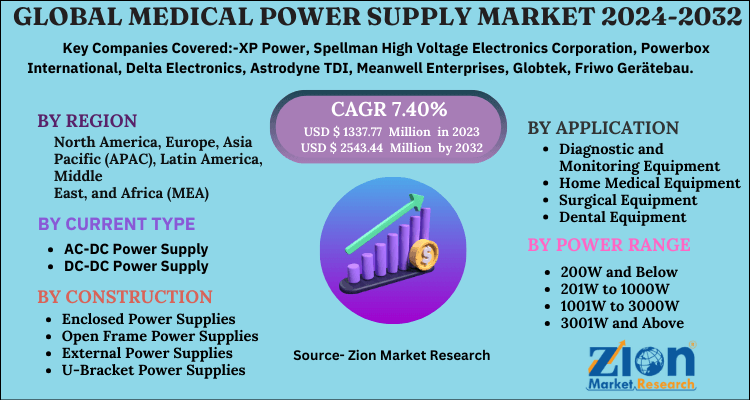 The medical power supply market is fragmented on the basis of current type, construction, application, and power range. Based on current type, the global medical power supply market includes AC-DC power supply and DC-DC power supply. The AC-DC power supply segment is expected to hold the largest market share, owing to its low-energy intake, lesser threat of current leakages, and superior efficacy characteristics. Based on construction, the market is categorized into enclosed power supplies, external power supplies, open frame power supplies, configurable power supplies, u-bracket power supplies, and encapsulated power supplies. Based on application, the market includes diagnostic and monitoring equipment, surgical equipment, home medical equipment, and dental equipment. Based on power range, the market includes 200w and below, 201w to 1000w, 1001w to 3000w, and 3001W and above.
By geography, North America is projected to attain a major share in the global medical power supply market. This growth can be attributed to robust healthcare amenities, particularly in hospitals and diagnostic imaging centers. Asia Pacific and Europe are expected to show noteworthy market growth rates in the upcoming years.
Some key players operating in the global medical power supply market are as follows:
XP Power
Spellman High Voltage Electronics Corporation
Powerbox International
Delta Electronics
Astrodyne TDI
Meanwell Enterprises
Globtek
Friwo Gerätebau
Inventus Power
Wall Industries
Synqor
Protek Power.
This report segments the global medical power supply market into:
By Current Type
AC-DC Power Supply
DC-DC Power Supply
By Construction
Enclosed Power Supplies
Open Frame Power Supplies
External Power Supplies
U-Bracket Power Supplies
Configurable Power Supplies
Encapsulated Power Supplies
By Application
Diagnostic and Monitoring Equipment
Home Medical Equipment
Surgical Equipment
Dental Equipment
By Power Range
200W and Below
201W to 1000W
1001W to 3000W
3001W and Above
By Region
North America
Europe
Asia Pacific
Latin America
The Middle East and Africa