A medical robot is basically a robot or robotic system that is used in the field of medical science. Medical robots include surgical robots, rehabilitation robots, telepresence robots, bio-robots, and pharmacy automation robots. The growing popularity of minimally invasive surgeries has put the spotlight on medical robots. The use of these robots in orthopedic, laparoscopic, and neurologic procedures has shown many advantages over the conventional procedures. Robots can scan a patient's vital signs, record a pulse, take pictures, read case records, etc.
The growing investments made for medical robot-related research and development, benefits of robot-assisted exercise in rehabilitation therapy, growing prevalence of cancer, orthopedic, and neurological disorders, increasing inclination toward minimally invasive surgical procedures, rising geriatric population, and growing applications of robot-assisted surgeries are likely to drive the global medical robots market in the future. Furthermore, the FDA approval and launch of new products, like da Vinci X robot by Intuitive Surgical Inc., is expected to further fuel the medical robots market in the upcoming years.
Technological improvements made related to medical robotic systems due to the increased focus on research and development activities and tireless efforts made by governments of developing countries are projected to offer new growth opportunities to the market players in the medical robots market. Nonetheless, high cost associated with medical robots, strict guidelines, and lack of skilled professionals to handle robotic systems may restrict the global medical robots market over the estimated timeframe.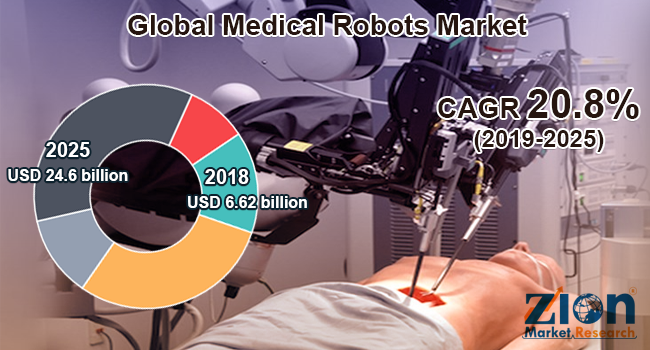 The global medical robots market is classified based on product type, application, and end-user. By product type, the medical robots market is segmented into robotic systems and accessories and instruments. The robotic systems have been sub-segmented into non-invasive radiosurgery robots, surgical robots, pharmacy and hospital automation robots, and rehabilitation robots. Surgical robots have been further divided into cardiology robotic systems, neurological robotic systems, laparoscopic robotic systems, steerable robotics, and orthopedic robotic systems.
Pharmacy and hospital automation robots have been further divided into IV robots and pharmacy automation robots. Rehabilitation robots have been further divided into prosthetic robots, therapeutic robots, exoskeleton robots, and assistive robots. The application segment includes orthopedic, neurology, laparoscopic, cardiology, and others. The end-user segment includes clinics, ambulatory surgical centers, and hospitals.
By region, North America is likely to dominate the global medical robots market in the future. This can be attributed to the growing prevalence of neurological and orthopedic disorders, the presence of leading market players, availability of advanced healthcare infrastructure, FDA approval for da Vinci X robot developed by Intuitive Surgical Inc., and quick implementation of latest technologies. The European medical robots market is likely to show substantial progress in the future, owing to the increasing cases of cancer and neurological disorders, growing geriatric population, favorable reimbursement scenario, and the presence of state-of-the-art healthcare infrastructure.
The Asia Pacific medical robots market is projected to grow rapidly over the estimated timeframe due to the growing investments in the healthcare sector, training offered to surgeons for robot-assisted surgeries and increasing geriatric population. The Latin American medical robots market is anticipated to expand at a noteworthy rate over the forecast time period.
Some key players of the global medical robots market are as follows:
Stryker Corporation
Intuitive Surgical Inc.
Mazor Robotics Ltd.
Hocoma AG
Hansen Medical Inc.
Omnicell Inc.
Accuray Incorporated
Engineering Services Inc.
Ekso Bionics Holdings Inc.
Kirby Lester LLC
Others.
This report segments the global medical robots market into:
Global Medical Robots Market: By Product Type
Robotic Systems

Non-Invasive Radiosurgery Robots
Surgical Robots

Cardiology Robotic Systems
Neurological Robotic Systems
Laparoscopic Robotic Systems
Steerable Robotics
Orthopedic Robotic Systems

Pharmacy and Hospital Automation Robots

IV Robots
Pharmacy Automation Robots

Rehabilitation Robots

Prosthetic Robots
Therapeutic Robots
Exoskeleton Robots
Assistive Robots

Accessories and Instruments
Global Medical Robots Market: By Application
Orthopedic
Neurology
Laparoscopic
Cardiology
Others
Global Medical Robots Market: By End-User
Clinics
Ambulatory Surgical Centers
Hospitals
Global Medical Robots Market: By Region
North America
Europe
Asia Pacific
Latin America
Middle East and Africa